KAMA ProFold 74
A real multi-talent for folding, gluing, dispensing etc. – perfect for a broad product range.
Manual work was yesterday: today, the ProFold 74 folds and glues blanks into a multitude of print products automatically and cost-efficiently. Whether presentation folders, folded cards, shipping envelopes, ticket pockets, cross folders and advent calendars or orders from the field of packaging, such as folded cartons with straight-line or auto-lock bottoms. Another factor that makes this an attractive proposition for the market is the shortened delivery times, as everything can be produced in-house.
Further orders that can be handled with the versatile ProFold 74:
Inserting vouchers, cards, package inserts and product samples
Dispensing labels, adhesive tape and pull strips
Products with capacity folders
Zig-zag folds for products with variable volumes
and many other applications.
Short set-up times on the ProFold 74 – thanks to the JobPlanner software, innovative tools and the unique KAMA grid-type mounting system – mean that finishing of even short runs can be made profitable. Thanks to the flexible options for use, including for the packaging market, the investment costs for this multi-talent will be recouped very quickly.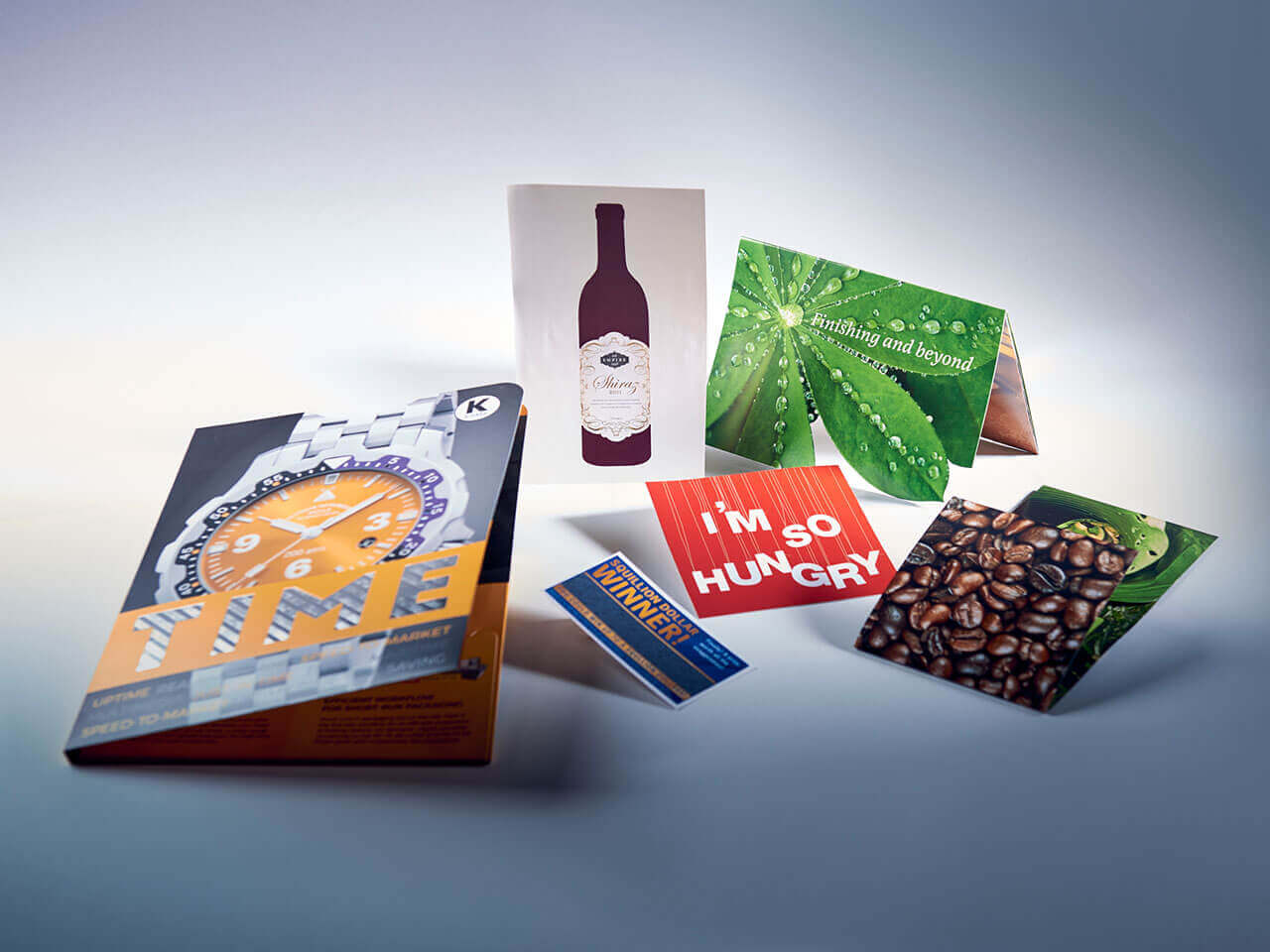 Highlights of the ProFold 74
Wide range of applications
From commercial printing to packaging: the ProFold 74 is capable of manufacturing many different products.
5,000 folders with capacity folders, 18,000 ticket pockets or 24,000 folded cartons – folded and glued in an hour: the ProFold 74 can handle a wide range of commercial print jobs and packaging tasks.
Thanks to the short set-up times, the machine can be used profitably even on short runs.
Here are some product groups that run on the ProFold 74, each in many different blank variants:
Dispensing
Boxes
Advent calendars
Folding cards
Dispensing adhesive tape
Small products
Cross folders
Capacity folder
Ticket pockets
Inserting, envelopes
Folding cartons
Various
Modular machine concept
The machine grows with your tasks.
You purchase only what you need, and the machine grows in parallel to new services when you add them to your portfolio. All new developments for the ProFold 74 are retrofittable and are integrated in the JobPlanner software.
The configurator will help you to find out which modules and tools will be helpful for your portfolio: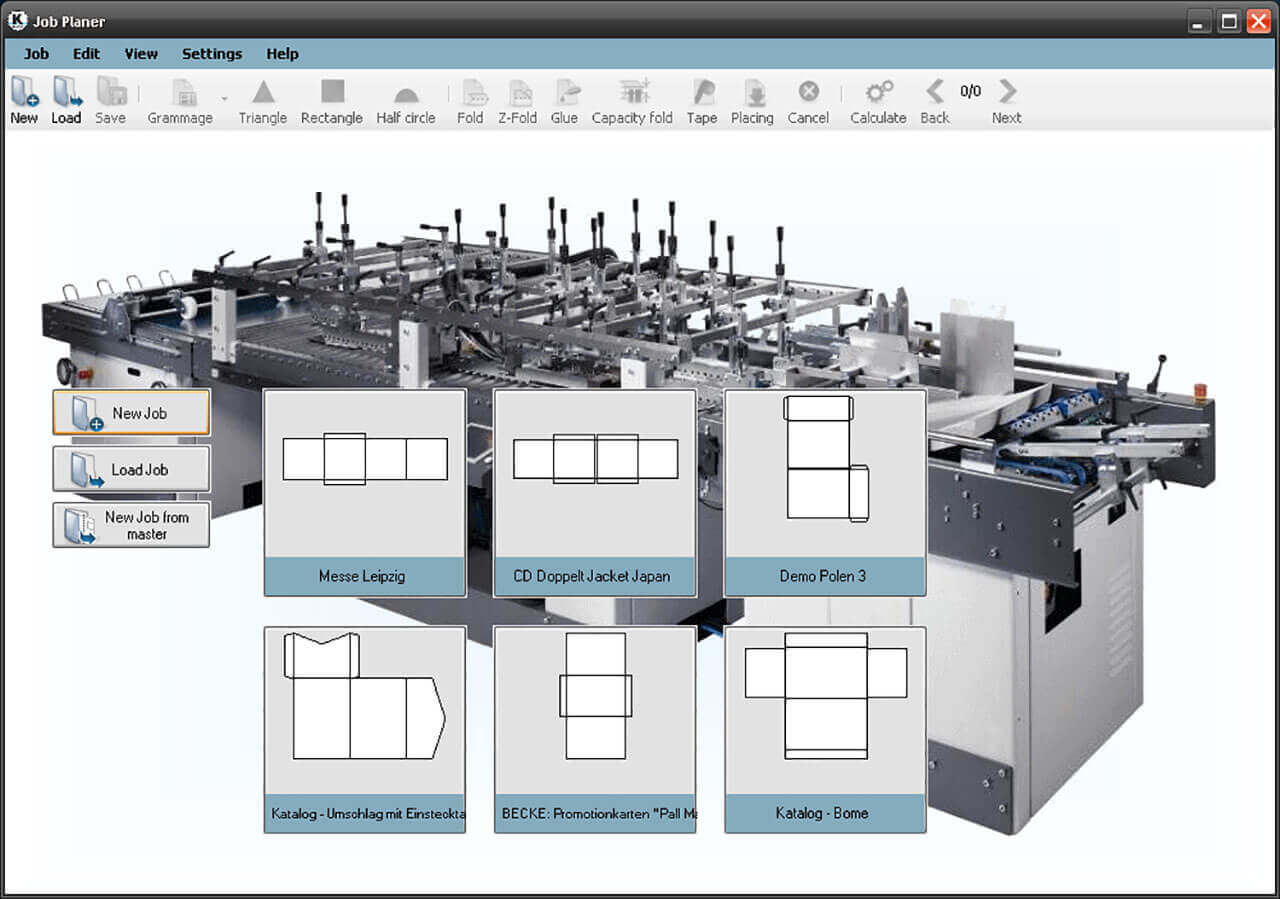 "JobPlanner" Software
It's all in the detailed calculations: from break-even to the set-up plan.
You enter the order data, and the JobPlanner software automatically calculates the costs, delivery time and break-even for the batch. The software also calculates the set-up plan with a corresponding item for every tool. Repeat orders are saved.
Sliding control panel
Wherever you need it.
Practical and time-saving: The control panel slides along the machine, so it is ready to use wherever the operator is, enabling him/her to keep both hands free at all times.
Fast set-up
… on the mounting system with clear lines.
The scaling along the machine and on the crossbeams shows the way: The layout is clear on the KAMA mounting system, and tools can be quickly located in the correct position with the aid of the quick-action clamps. Depending on the product being handled, use of the ProFold 74 can be profitable from print runs of 250 or 300. The set-up plan can be reproduced for repeat orders.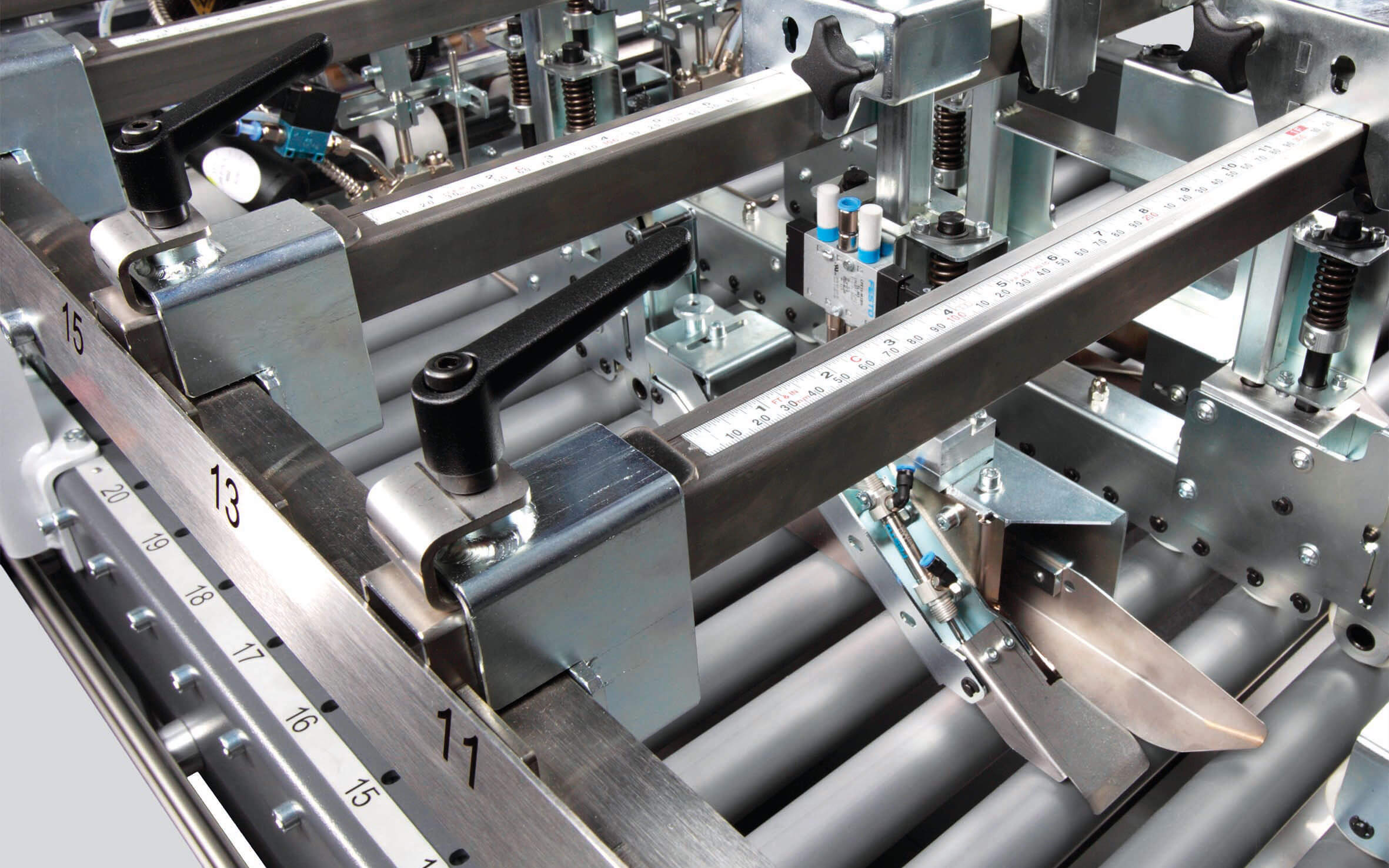 Dispensing
We go one better.
This tool allows you to dispense a wide range of different additions – e.g. vouchers, cards and calendars, package inserts or cosmetics samples etc.
Dispensing adhesive tape
Gluing – and let the customer seal it later.
This is a device that is often needed in practice. ProFold 74 folds and applies adhesive tape to envelopes, folded postcards and other products so that the customer can easily seal them later on.
Dispenser with pull strip
For tearing things open when you need to.
You want the customer to be able to open their product easily as well. This is why the ProFold 74 attaches the pull strip to the product at the same time.
Free rotation up to 360°
There's no such thing as impossible!
For once, this is not just a bold claim. From 1 to 360 degrees, the programmable device on the ProFold 74 will rotate the product exactly as far as required. So an exciting angle is perfectly possible.
Manufacturing capacity folders
Space for everything.
Orders with capacity folders are very complex to manufacture manually. When it comes to these products, the folder-gluer gluer can save a great deal of time indeed. The ProFold 74 is the only solution capable of manufacturing capacity folders from just 3 mm and up to 25 mm.
Creasing and perforating device
Everything is better with good creasing.
For products that are only cut prior to folding and gluing and do not run over a cutting station, the ProFold 74 will take care of creasing and perforating at the same time. Examples include greetings cards, folded cards, tickets, blanks or display panels.
Hot melt or cold glue
This multi-talent can do both.
Whether with hot melt or cold glue – the ProFold 74 can handle either perfectly well. We offer an extended pressing belt for the use of cold glue, which is interesting for example for the production of folded cartons.
Organisation system
Everything in its right place and ready to hand.
In our tailor-made organisation system, all your tools are safely stowed away with minimal space requirements.
And of course they are always ready to hand.
Specifications – KAMA ProFold 74
Processable materials & output
* Depending on the material, sheet size and configuration. Technical data and figures are subject to change.

| | |
| --- | --- |
| Material* | Heavy paper, Paperboard, Plastics |
| Grammage* | 100 – 600 g/m2 |
| Minimum blank size (W x L) | 100 x 80 mm |
| Minimum product size (W x L) | 50 x 80 mm |
| Maximum linear speed | 150 m/min |
| Max. performance* | 36.000 cycles/h |
| Max. performance for capacity products* | 6.000 cycles/h |
| Machine dimensions | 5.500 x 1.000 mm |
Options
Equipment options and systems for the ProFold 74 (selection)
Auto-lock bottom device for lock bottom boxes
Barcode scanner
Flat stack feeder or suction-belt feed board&
Motorised alignment table (left/right)
NEW: extended delivery belt
Capacity folder device – 3 to 24 mm
Pick & place for high-volume goods samples
Cold glue system with pressing station
Creasing and perforating device
Sales Partner for KAMA Solutions