KAMA Job-Manager software
The smart solution provides networking of KAMA machines for Print 4.0 in post-press.
The experts all agree: the next big thing is going to be communication and further automation of machines in connection with big data. Some people see it as the fourth industrial revolution and have labelled this development "Industry 4.0", and in the graphical industry we talk of "Print 4.0".
But don't worry, you haven't missed anything – the transition is only just under way. Some segments in our industry have already made more progress (photo books, book printing on demand), but others have some catching up to do (commercial printing, packaging printing), while printing press manufacturers are further than manufacturers of post-press machines – partly because there are many more different types of task to master here.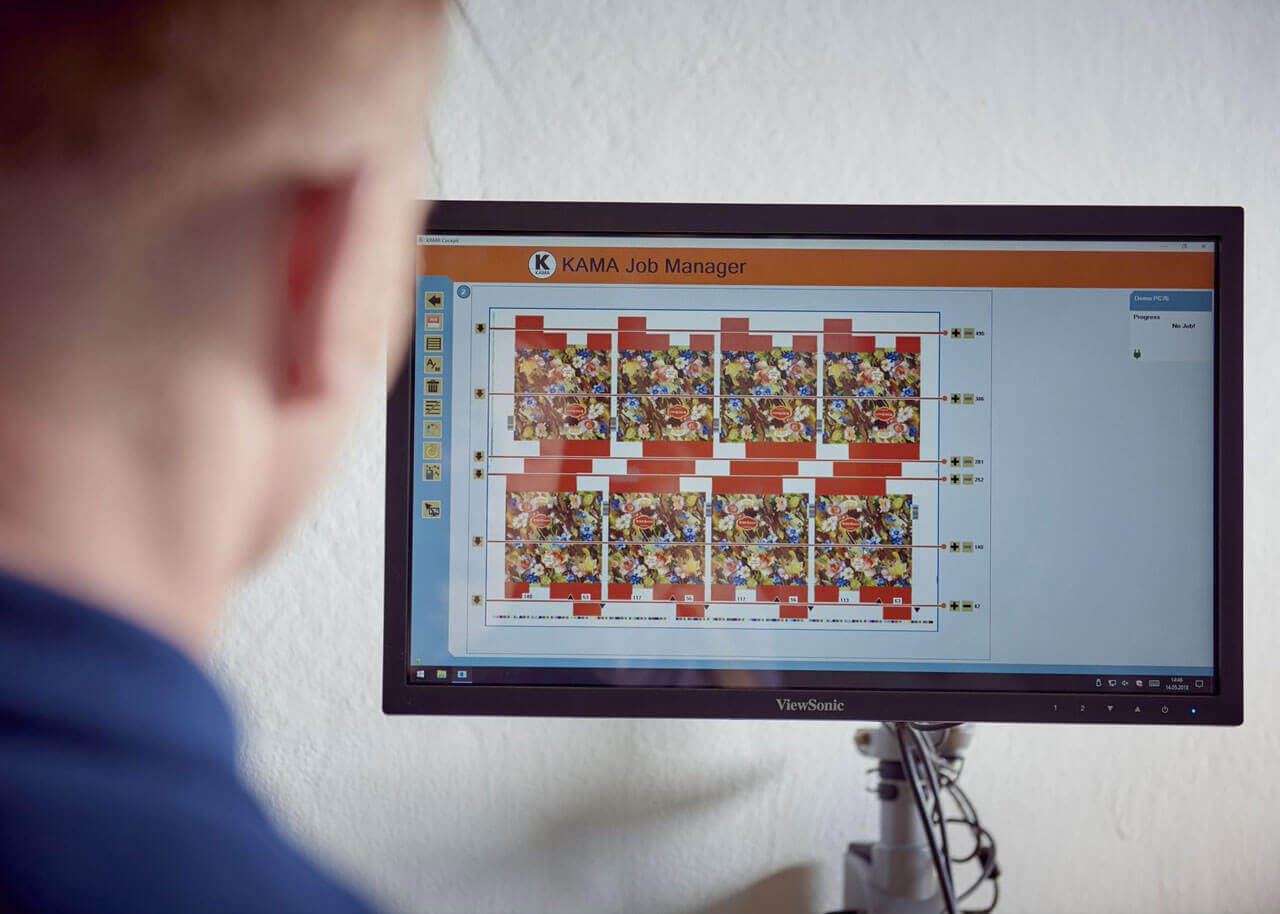 Post-press goes Print 4.0
Digitalising processes, networking machines and establishing integrated workflows.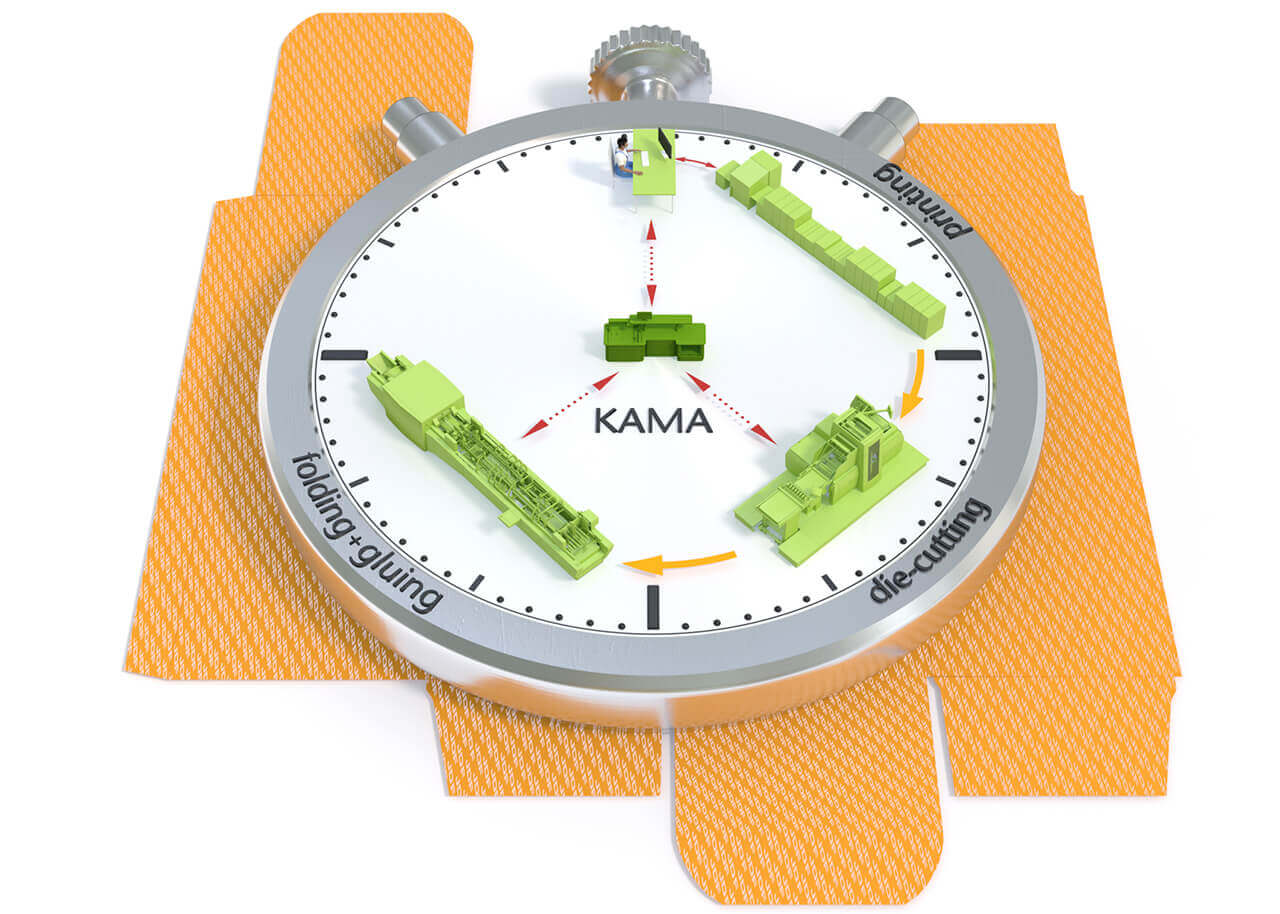 The central element in the KAMA concept for Print 4.0 is its Cockpit with the Job-Manager software. The Job Manager runs on an industrial PC and centrally manages communications with the KAMA machines, while also serving as an interface for networking and integration in the MIS/ERP system of the customer.
Current jobs are received digitally by the Job-Manager software, providing the operator with all the relevant data on the screen with just a few mouse clicks. The Job-Manager generates matching adjustment data for the machines and transmits them there. This simplifies the process of getting the machine ready for the operator and significantly shortens set-up times.
The machines in turn send their data back to the Job-Manager – including set-up time, duration of production, number of good sheets, rejects and of course information about the current status of production. This data can be forwarded to an MIS/ERP system.
Integration in an MIS/ERP system is prepared on a customer-specific basis. We are currently introducing this for reference customer projects both in commercial printing and in packaging.
Once you have integrated the KAMA machines in your network, all aspects of order management can be handled paperlessly and – what is more important – communication errors can be avoided. The processes are better coordinated with each other, helping to eradicate wasted time, costs and movements ("Muda"). The result: significantly shorter throughput times and faster time-to-market.
Particularly when it comes to short and medium runs, we believe that a networked Print 4.0 approach up to and including the post-press stage is absolutely indispensable.
In a nutshell: KAMA Job-Manager software:
provides networking of KAMA machines for electronic job tickets
digitalises and accelerates set-up processes
determines and communicates adjustment data for the tool-free stripper SBU
determines and transmits adjustment data for optimum foil utilisation during hot foil stamping
acts as a client for networking with the ERP/MIS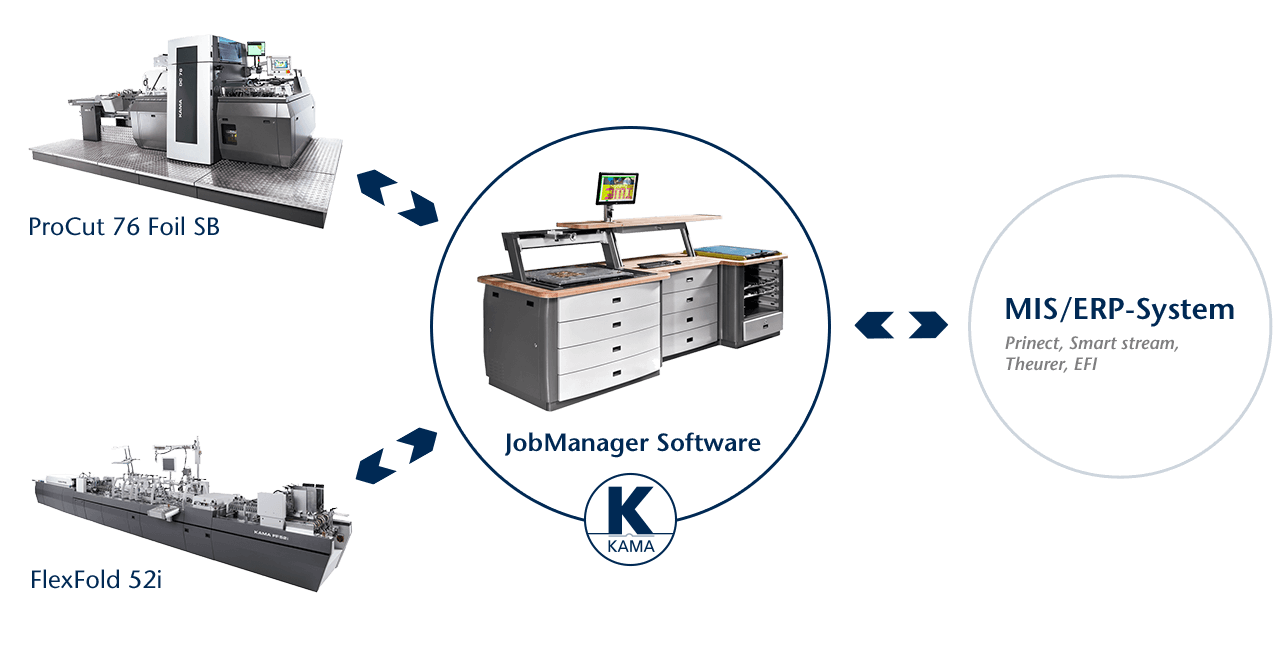 Sales Partner for KAMA Solutions