KAMA DC 76
Efficient finishing for short runs and digitally printed packaging.
The folded carton your customers dream of has a high-quality finish, is version-controlled or individualised and can be delivered on-demand as a short run. With the die cutting and stamping machine DC 76 SB your post-press setup is perfect for this, as it combines both key areas: quality of finish and cost effectiveness.
Our "packaging die cutter" is designed for small to medium-sized runs and can handle the frequent set-up changes between orders in very short times. A camera-based AutoRegister also safeguards the required accuracy for brand packaging and labels in the world of digital printing. Added to this are the advantages of the KAMA inline stripper, which reliably breaks out and separates the blanks – completely without the need for any additional tools. That really counts when it comes to short runs.
Among our packaging customers, the network-capable DC 76 SB has proved itself a capable workhorse for folded carton production for consumer goods, pharmaceutical and healthcare products, secondary packaging for food and for the pharmaceuticals market.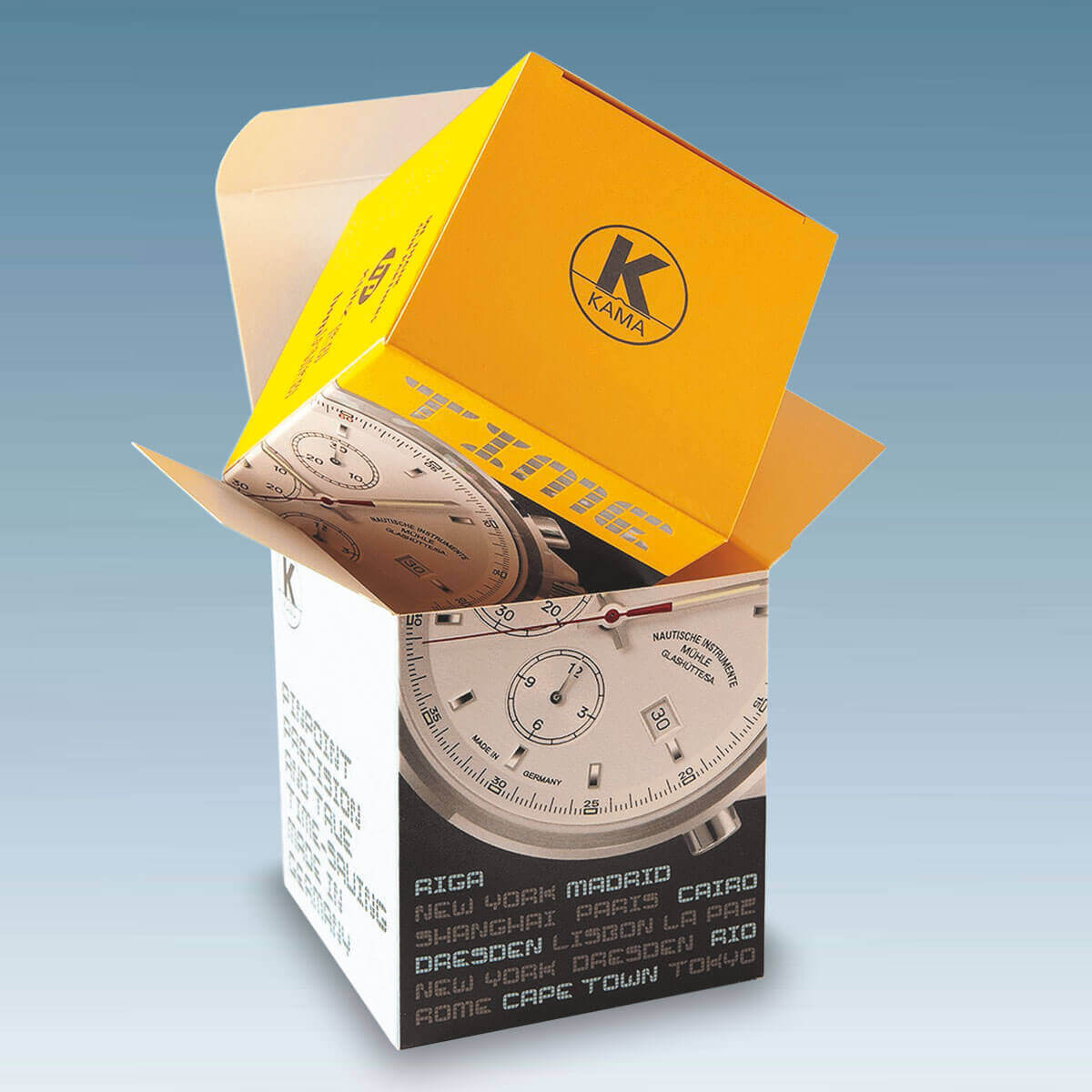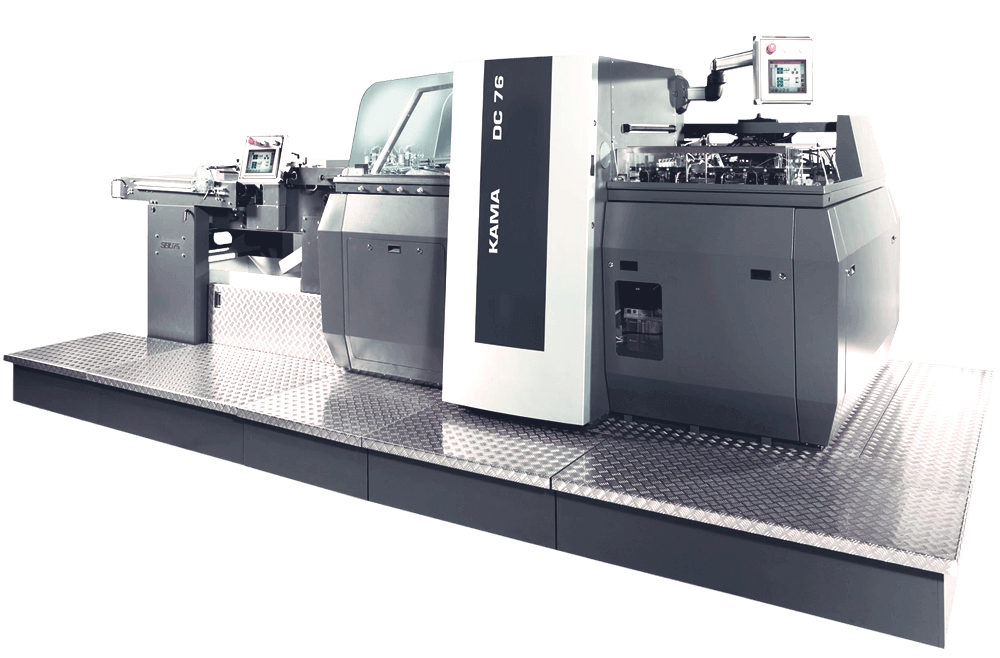 Die Cutting

Creasing

Perforating

Blind Embossing

Braille Embossing

Kiss Cut

Hot Cut

Stripping & Blanking
Unbeatable range of applications
Everything perfectly finished – in a single pass.
The DC 76 SB covers all the necessary applications – from printed sheets to separated blanks – and delivers blanks of the highest quality. Cutting without nicks, first-class creasing lines, embossed Braille dots, blowing out of hanger holes and small cut-outs and separation of the blanks. Everything in a single pass.
Minimal set-up times
For rapid job changes.
Conversion in just 5 to 10 minutes? Perfectly feasible on the DC 76 SB. This means that even short runs of version-controlled and personalised folded cartons or for regional and local brands can be processed cost-effectively.
Tool-free stripping
Automatic stripping with the production line still running.
What makes the inline stripper KAMA SBU so special is that the blanks are stripped out with programmable rollers, with no need for tools. This saves you the costs of a stripping tool – on every order. Even small cut-outs, small waste parts and Euroslot holes are reliably removed. The blanks can be nested for optimum sheet utilisation. The SBU unit separates the shingle streams. The bar grate is shredded and transported away to the bottom. NEW: SBU with split gripper bar and 30 % more output.


Highest register accuracy
Meeting the highest demands of brand manufacturers.
KAMA die cutting and stamping machines with AutoRegister achieve the highest register accuracy in the market. Digital prints are also processed with the AutoRegister to within an accuracy of 0.1 mm. For a high-quality appearance (brand packaging) in the supermarket.
NEW: AutoRegister AR3 additionally provides "skew adjust" - for maximum register accuracy with cut sheets adn twisted sheets, multiple embellishment and most demanding packaging.
For Print 4.0
Network integration now also for post-press finishing.
KAMA solutions can be networked for two-way data exchange with your management system. The Job Manager sends the order data to the machines and communicates the production data back to the MIS.
Modular concept
Retrofittable for even more benefits.
The DC 76 die cutting and embossing machine can be retrofitted for further applications thanks to its modular concept. For example, with a hot foil stamping system for printing. The tool-free, mobile stripping and blanking system can also be added later - connections and electronics are included in the basic machine.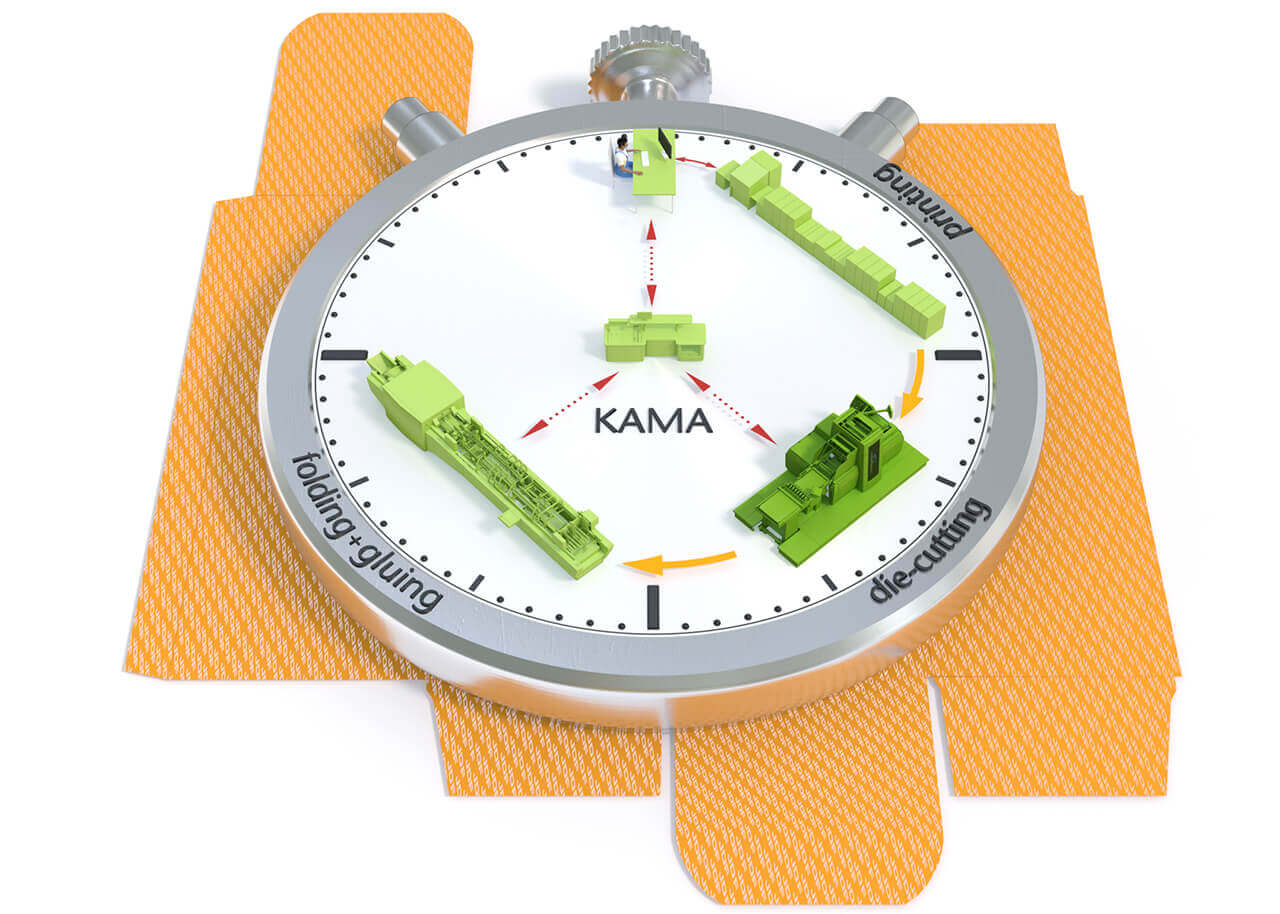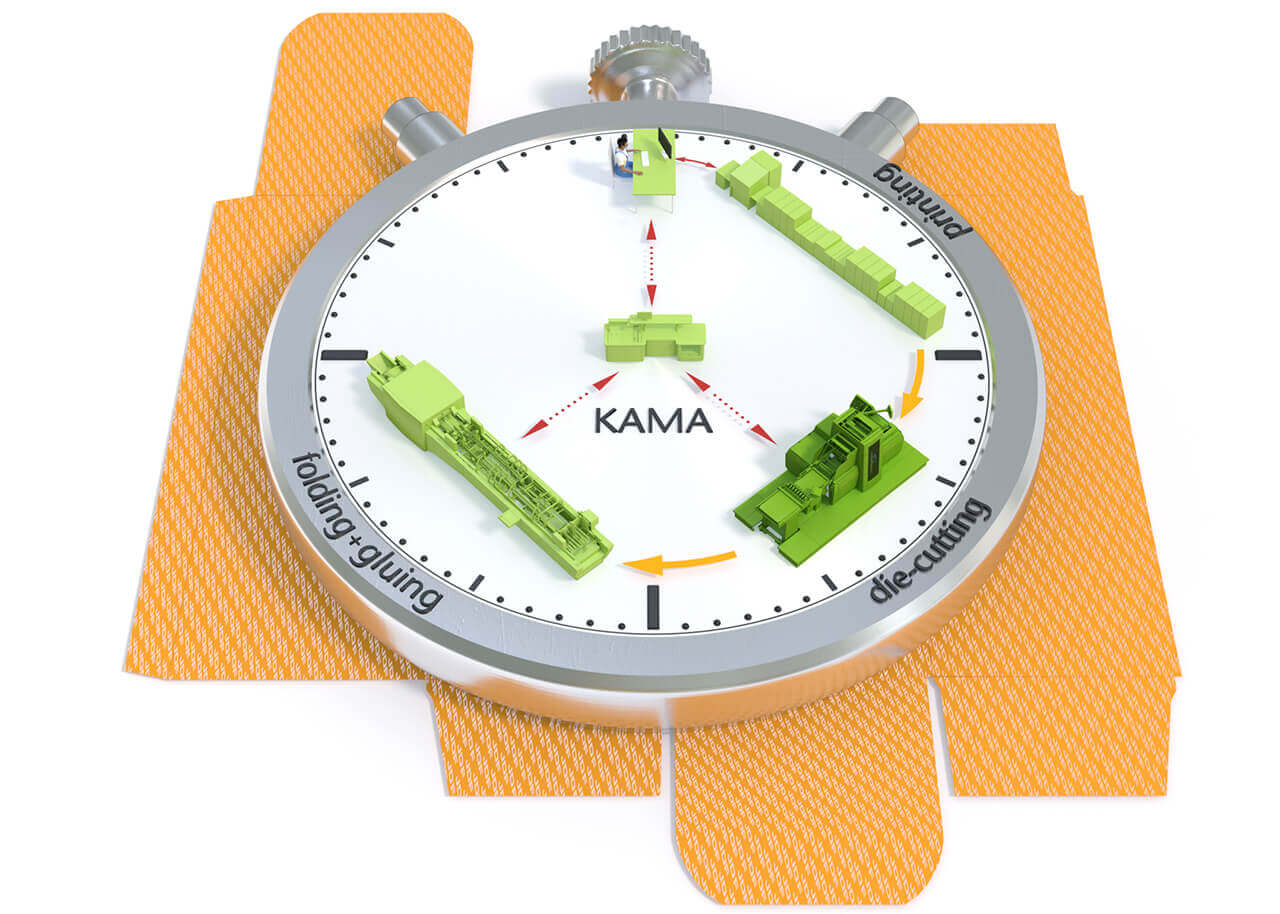 Book an online-Demo!
We offer individual machine demonstrations.
Live and with your questions.
Specifications – KAMA DC 76
Processable materials & output
* dependent on material, sheet size and die configuration Technical data and figures are subject to change.

| | |
| --- | --- |
| Paper | 100 - 800 g/m² |
| Paperboard, micro-corrugated board | max. 1,500 g/m² (bzw. 1.8 mm) |
| Plastics | max. 1,500 g/m² |
| Maximum sheet size | 760 x 600 mm (29 15/16 x 23 5/8 in) |
| Minimum sheet size | 279 x 210 mm (11 x 8 1/4 in) |
| Speed* | 5,500 sheets/h |
| Cutting force | 165 t, with servo motor 180 t |
| Maximum cutting size | 743 x 585 mm (29 3/8 x 23 1/16 in) |
| Gripper margin | 10 mm |
| Dimensions (length x width) | 4.87 x 2.69 m plus SBU |
Options
Example equipment for the DC 76
KAMA AutoRegister: aligns every sheet based on the print image for finishing with highest registration accuracy in digital printing
Servo main drive for more power and asynchronous lifting speed
Quick-change heating plate system 4+1 for quick job changes
Module for hot cutting and creasing of plastic materials
Job Manager for networked workflows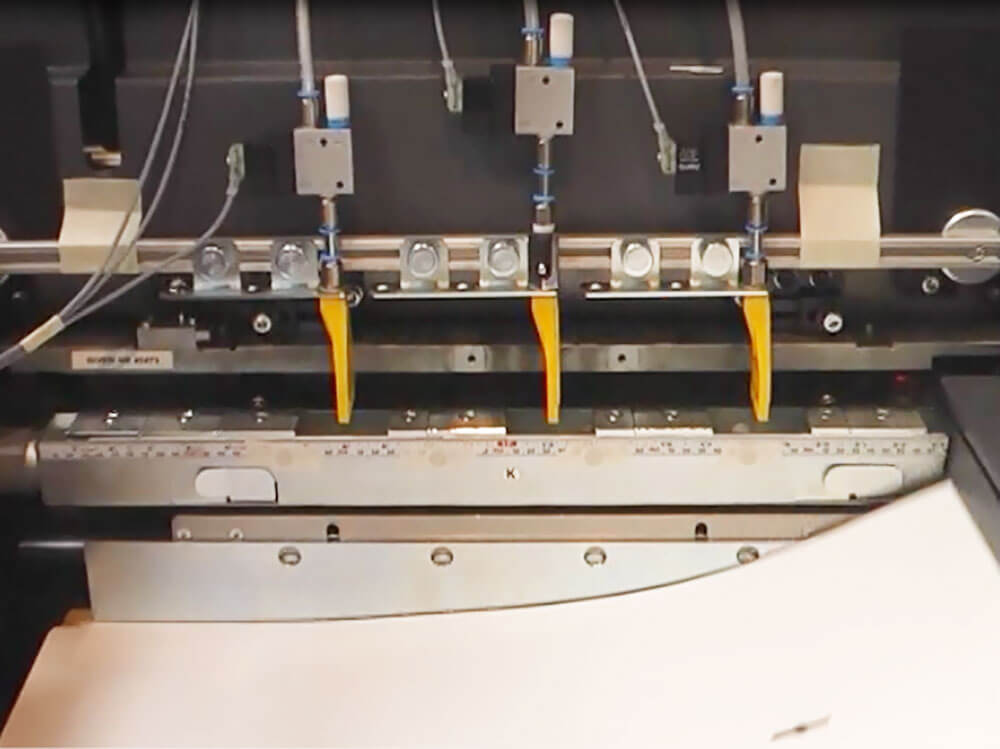 Sales Partner for KAMA Solutions
Applications of the KAMA DC 76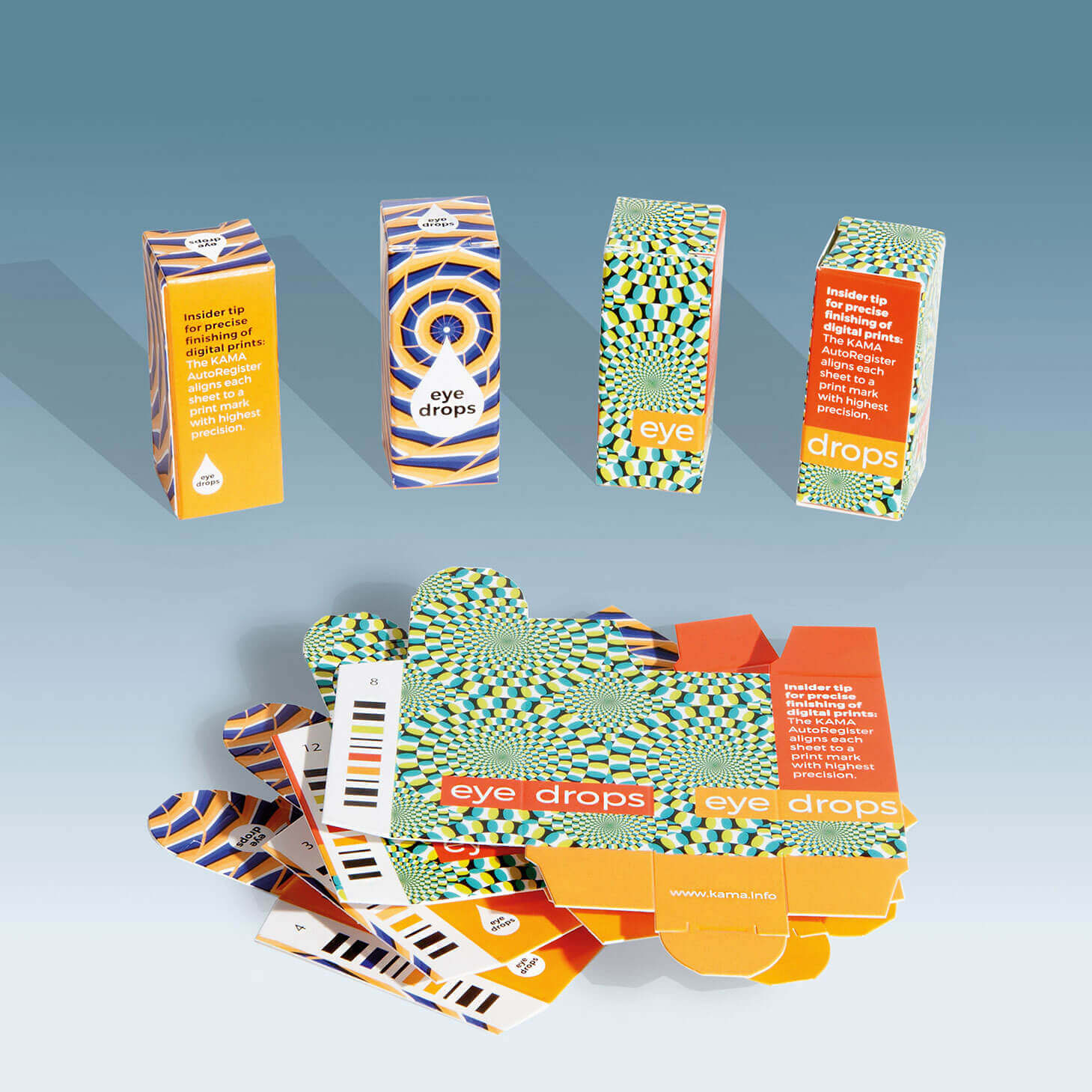 Digital printed cartons with different designs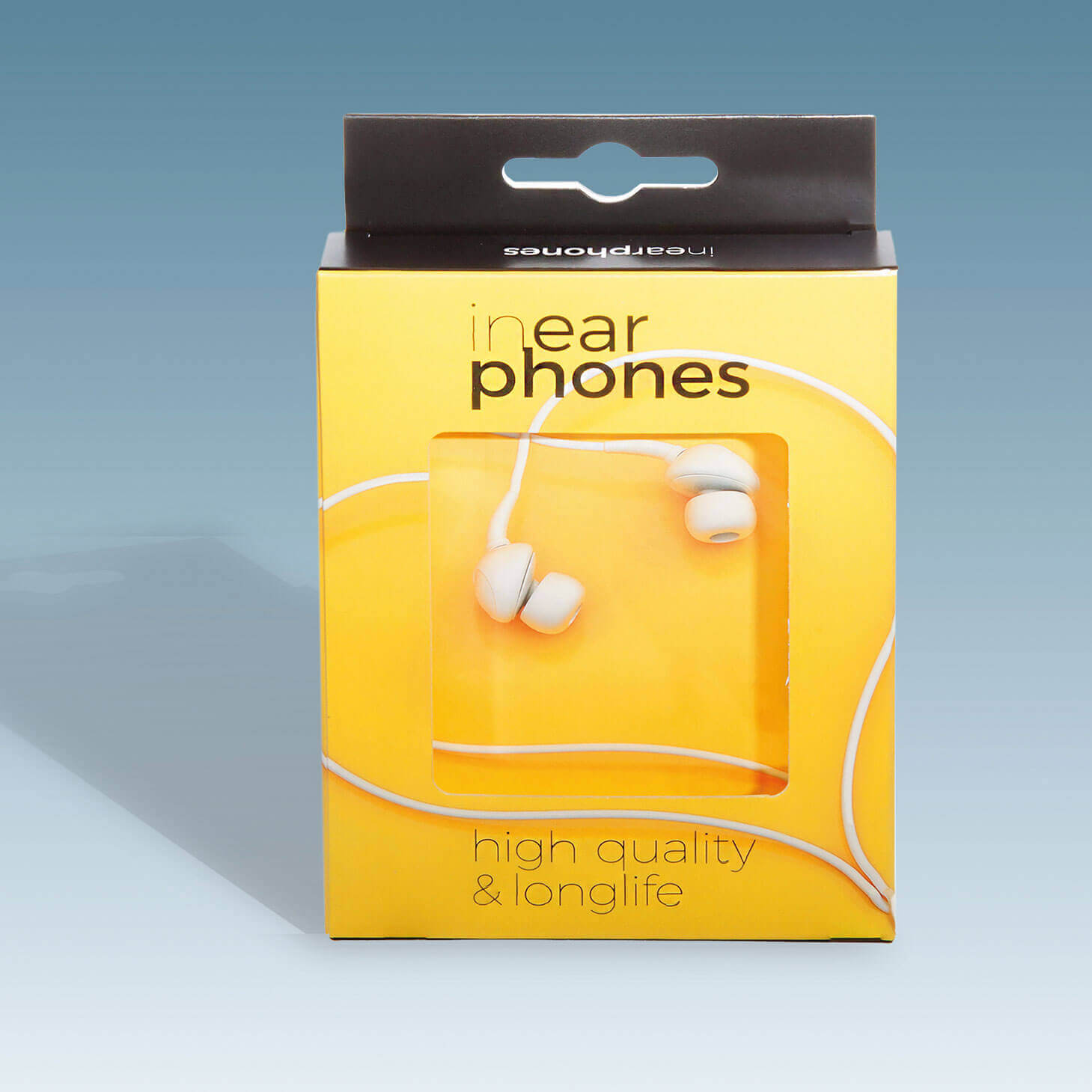 Longitudinal seam box with window and Euro hole hanger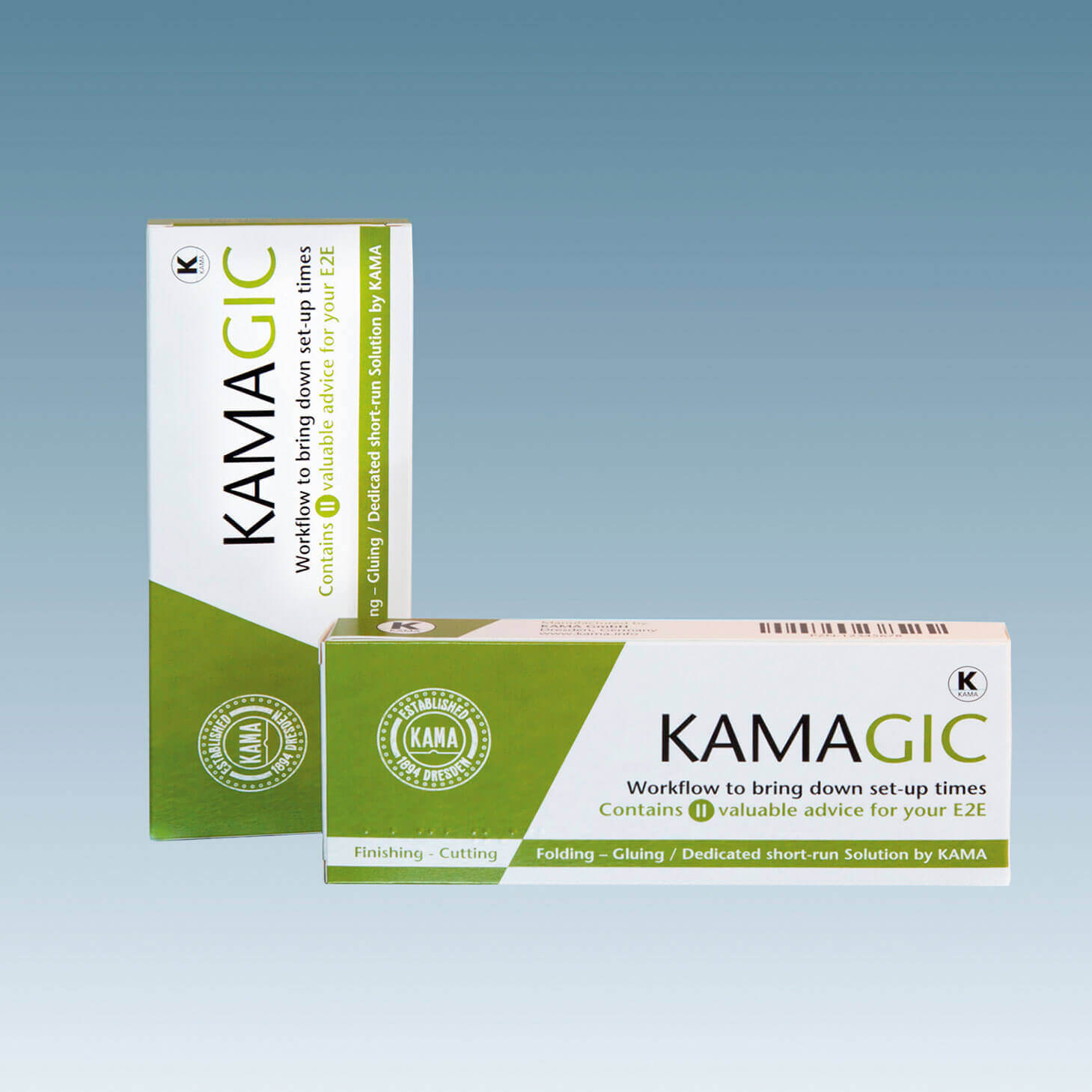 Longitudinal seam boxes with Braille for the pharmaceutical market