Workflow 4.0 for short runs
How the KAMA workflow transforms "unpopular" short runs for packaging into a profitable business.
When it comes to the production of short runs, performance and costs depend significantly on the process procedures – not least because they are run through so often. The high number of smaller orders relating to versioning with VDP, large numbers of SKUs and on-demand delivery means constant job changes and frequent conversion of the set-up between orders. When it comes to the printing itself, digital is the way forward – but what about post-press?
Short runs – a challenge for the packaging
A workflow for short runs in folded carton production needs to take the following into account:
The set-up times play a particularly important role. Preparations that take hours are not going to be efficient if the actual production time is just 30 or 60 minutes.
The same thing applies to the fixed costs, as they are distributed over a few hundred or thousand sheets, not a print run going into the millions.
Standardisation of orders and procedures is essential, as has already been shown by web-2-print providers for many years. Potential sources of errors need to be eliminated, and us much as possible needs to be automated.
Order information and status messages must be trackable without time delays, i.e. digitally and online. Track-and-trace information needs to be migrated into internal control systems in the medium term.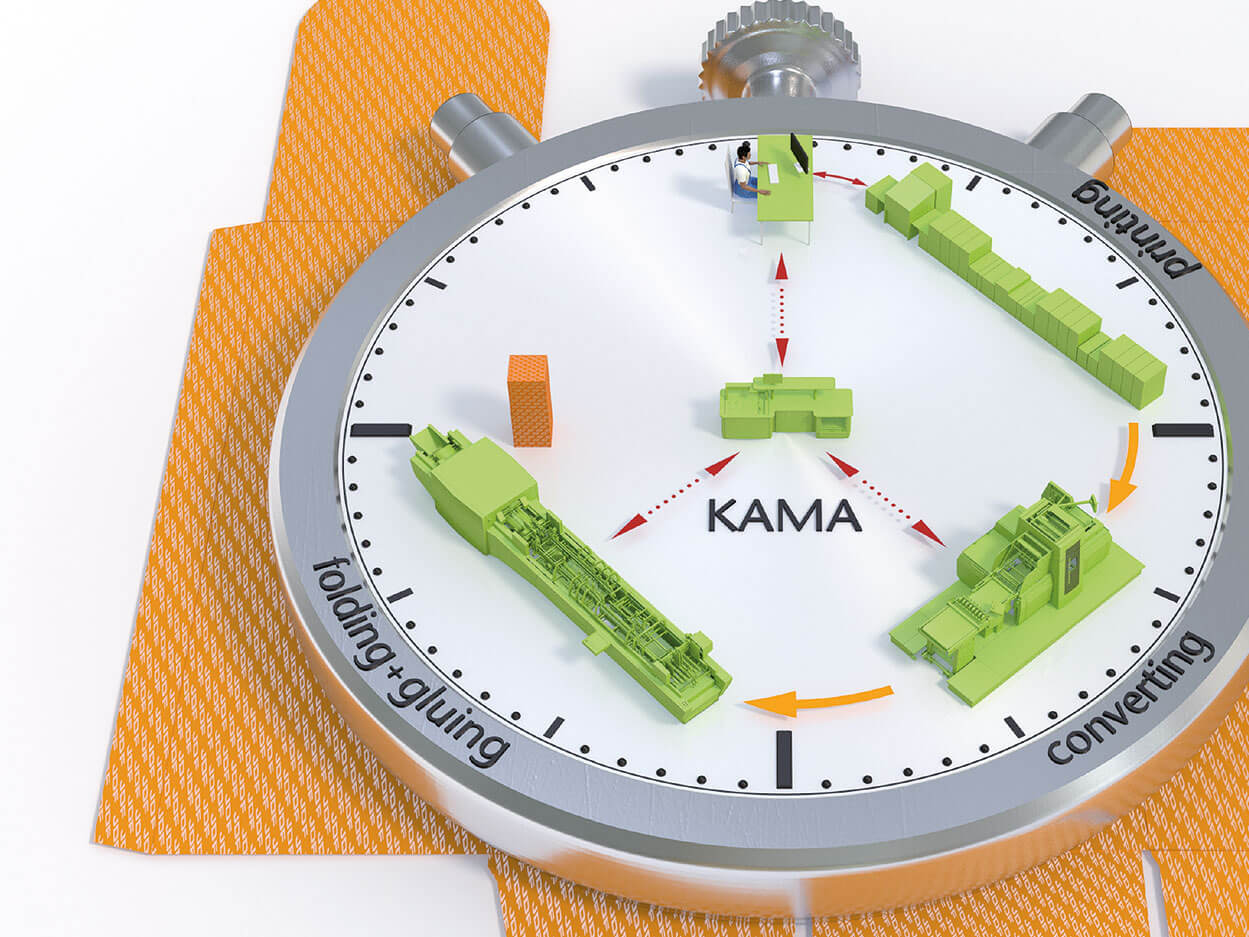 … and the solution from KAMA
As a specialist for finishing of short runs, in recent years KAMA has developed a complete, well-performing workflow for post-press finishing in short-run folded carton production. The challenge: to optimise processes, automate and network solutions and – wherever possible – reduce fixed costs. And here are the advantages:
the die cutting machine ProCut 76 Packaging with integrated tool-free stripper and blank separator requires no additional tools apart from the familiar steel rule. For a one-off order, this is an invaluable advantage, but even on repeat orders it remains very relevant to TCO calculations.
Short runs, small sheet sizes. This is our credo. Cutting and creasing tools are around 40% cheaper than for the larger sheet size 3B. And certainly no less important is the fact that job preparations take 40-50% less time.
The cockpit with the KAMA Job Manager software acts as the control station, receiving job data from the central control system and communicating it to the machines. Status information can be called up.
The new KAMA folder-gluer FlexFold 52i is the only machine of its kind that is fully automatically adjustable – and it requires no reference runs. The machine can run straight to the new positions, reducing changeover times between jobs to just 5-7 minutes. If, for example, a customer wants to manufacture 4 orders per hour, this is mathematically the only possible solution – with conversion times of 15 minutes per job there would otherwise be no time left for production.
Taken together, all of these aspects contribute to major advantages over conventional production for one-off orders up to 100,000 sheets and for repeat orders up to 10,000 sheets. Which is precisely the range of job sizes that causes real headaches for many folded carton manufacturers. On top of this, when the high-performance machines are kept away from this short-run work they can really make full use of their strengths for bulk orders – meaning that both systems supplement each other perfectly, for twice the benefits.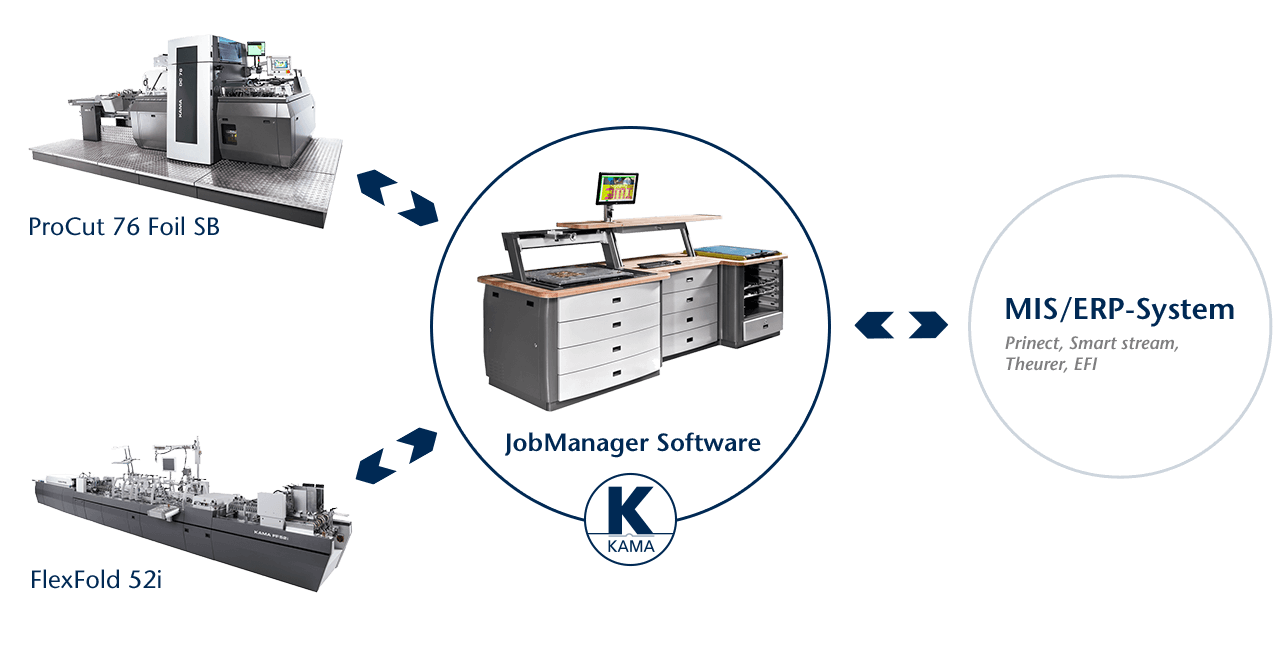 Our Products for the Pack­aging market
We offer a complete workflow for folding box production after printing - from die cutting/creasing/stripping to folding and gluing.
Our finishing die cutter for packaging
Are you planning to enter the booming market for short-run packaging jobs? The ProCut 76 Foil in the Packaging Edition with the unique tool-free KAMA stripper will get your post-press setup fit for the production of enhanced cartons and for the high demands of brand manufacturers.
The world's first folder-gluer for short runs
Cost-effective production of digitally printed folded cartons and small SKUs: KAMA has developed the FlexFold 52i for this attractive market. With the first fully automated folded carton gluing machine for short runs, order changes can be implemented in record time (just a few minutes). This allows version-controlled and individualised print runs to become profitable – whether straight-line boxes, cushioned packaging or lock bottom boxes.
Connecting the workflow for more productivity
The Cockpit serves to optimize work preparation and sets the course for Print 4.0: The Job-Manager software links the KAMA solutions with your MIS and enables data exchange through to further processing. Your electronic job control thus covers the entire workflow. The CPX positioning system can be integrated into the Cockpit.
Book an online-Demo!
We offer individual machine demonstrations.
Live and with your questions.