The new trend for short runs -
a challenge for folded carton production
Production runs that go into the millions perform well at fast throughput rates. But what does "profitability" translate into for short runs?
On many SKUs, even the biggest orders can include short runs. Customers have reported cases with several hundred or even a thousand different variants. More and more, short runs are the result of "just-in-time" (JIT) requests for daily, weekly or monthly part-deliveries and personalised and digitally printed folded cartons. While the high running speed of high-volume machines is crucial for production runs that run into the millions, short runs need speed between orders – i.e. when changing over the set-up for the next order. And, what may surprise at first glance: you will benefit from the smaller sheet size.
Performance factors for short runs
For many years the KAMA team has been working on the issue of ensuring that such short runs can be produced efficiently. The company develops solutions with innovative systems and details, keeping an eye on the break-even point in the process. Our findings for post-press and finishing: order changes need to be fast and functional, and the number of tools required needs to be reduced to a minimum. And in many cases it makes good sense to switch to the smaller sheet size B2. In detail:
The half-size format (B2, 30") offers many advantages over larger sheet sizes thanks to the lower tool costs and faster set-up, compensating for the higher average unit costs in printing.
No tools are required for stripping or blank separation on the KAMA solution. The savings in terms of costs and set-up times enable inexpensive production of small and medium runs that is unrivalled by the competition.
Short set-up times during cutting, creasing, finishing – and afterwards during folding and gluing. All KAMA machines have been developed and built with fast changeovers between orders in mind: precise finishing of the cutting head and table, electronic (pre-)selection of the cutting pressure, compact and easily accessible machine design and easily adjustable Heidelberg suction head, no adjustment work required on the linear gripper system, efficient options such as the AutoRegister and servo drive – along with many other time-saving details.
Clear results for the break-even point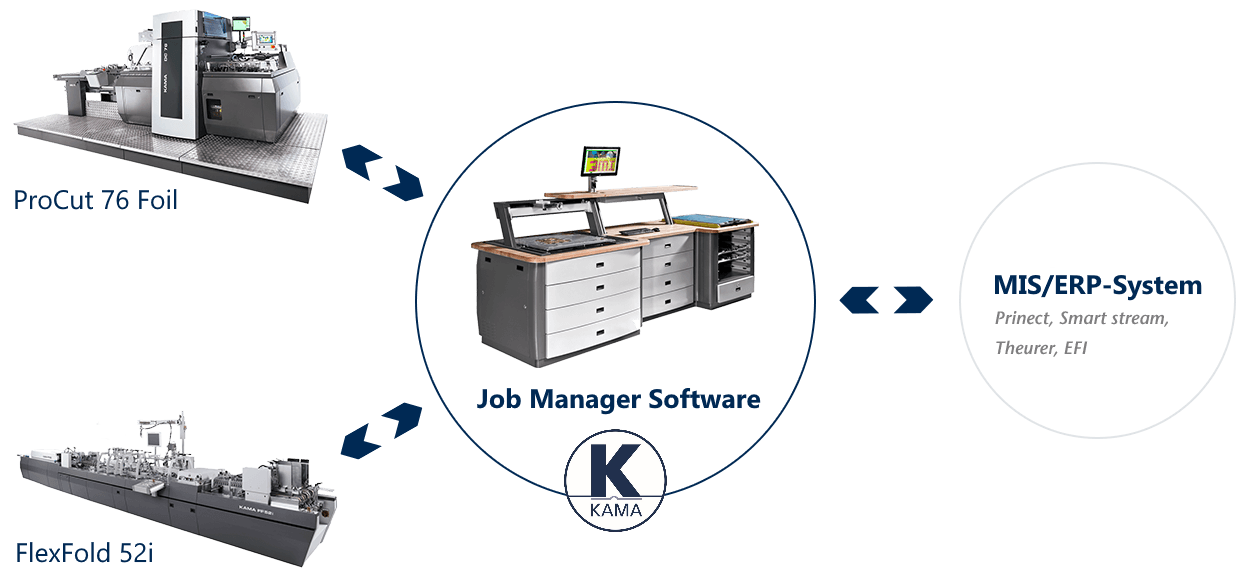 For orders up to 10,000 B2 (30") sheets and around 6,000 B1 (40") sheets, the KAMA system offers clear commercial advantages over a B1 cutter. This range of order sizes covers the break-even range for digital printing. In practice, it covers many orders for the pharmaceutical sector, for beauty care, for micro brands and for SKUs with short runs – all the way through to the food sector.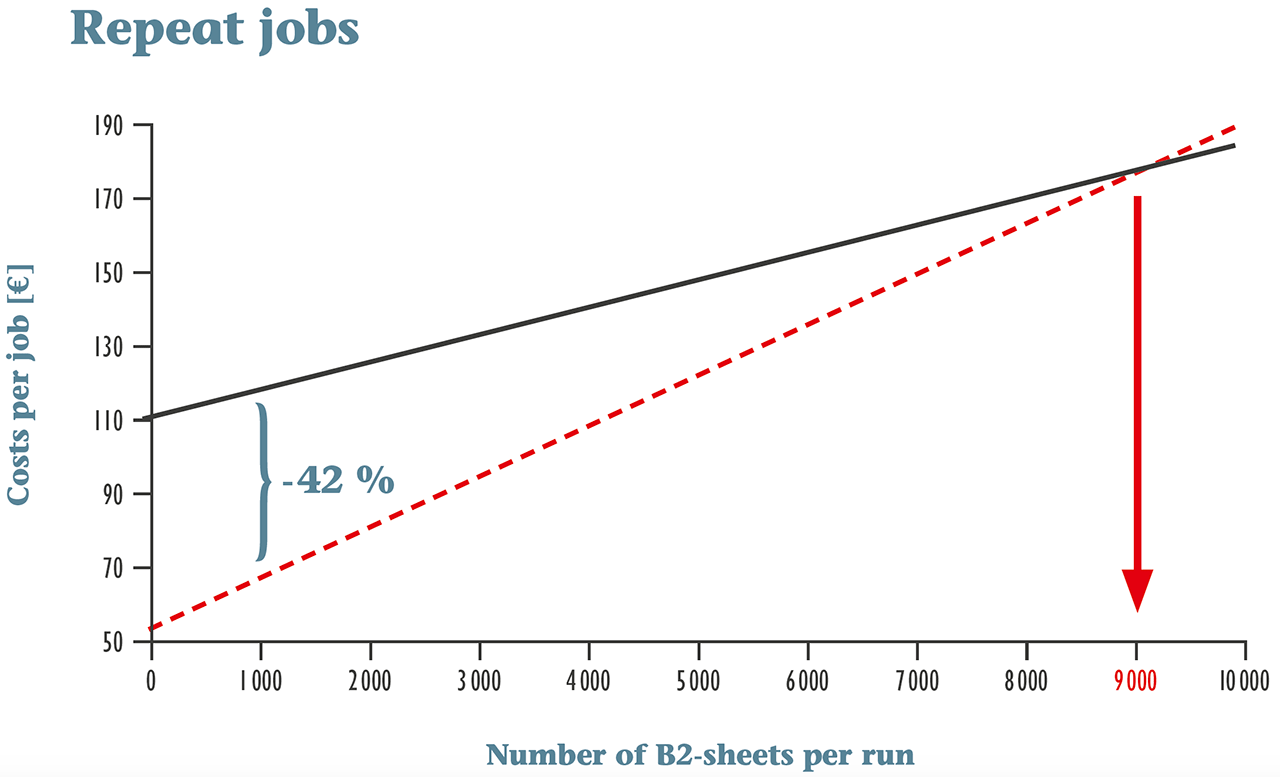 Our Products for the Pack­aging market
We offer a complete workflow for folding box production after printing - from die cutting/creasing/stripping to folding and gluing.
Our finishing die cutter for packaging
Are you planning to enter the booming market for short-run packaging jobs? The ProCut 76 Foil in the Packaging Edition with the unique tool-free KAMA stripper will get your post-press setup fit for the production of enhanced cartons and for the high demands of brand manufacturers.
The world's first folder-gluer for short runs
Cost-effective production of digitally printed folded cartons and small SKUs: KAMA has developed the FlexFold 52i for this attractive market. With the first fully automated folded carton gluing machine for short runs, order changes can be implemented in record time (just a few minutes). This allows version-controlled and individualised print runs to become profitable – whether straight-line boxes, cushioned packaging or lock bottom boxes.